Hearing Aids – Product Range
Many people with a hearing loss may require hearing aids. Never before have hearing aids been so small yet so feature-filled allowing you to choose an option that is right for you. Hearing aids are available in a variety of technology levels to suit your lifestyle and budget.
Advanced Hearing Care supply a wide range of manufacturers including Phonak, GN Hearing, Starkey, Siemens, Widex, Sonic, Bernafon, Unitron and Sennheiser.
Below are only some of the many products we provide.
Siemens Pure Charge&Go Nx
The Pure Charge&Go is the ultimate RIC (Receiver In Canal). Its ability to be wirelessly recharged is just one of the convenient features this aid possesses. Wearers no longer need to worry that they might struggle to change disposable batteries. Just simply Charge&Go. The Pure Charge&Go has incredible Bluetooth connectivity as well as live remote support. The aid provides the most natural own voice and best speech understanding in noise. It comes with a sufficing charger, half an hour of charge will provide 5-6 hours of battery life.
Siemens Silk Nx + Silk CROS Nx
The new Silk Nx CIC (Completely In Canal) provides a natural hearing experience with its discreet size, instant fit and exceptional sound quality. It is applauded for its superior speech understanding and natural sound. Being the small size that it is, the Silk aid is compatible with the TouchControl App, giving you control to adjust settings with the touch of a button. The ultimate discretion aid. The Silk Nx also provides for wearers with unaidable hearing loss in one ear, the CROS Silk Nx is the worlds first CROS CIC hearing aid. The Silk CROS Nx receives sound on the unaidable side and transmits it to a hearing aid on the other side.
Siemens Pure 13 Nx – an ultra-discreet solution
By separately processing the wearer's own voice and integrating it smoothly into the soundscape, Signia's new Pure 13 Nx provides the most own voice and best speech understanding in noise.
Thanks to Bluetooth, it comes with superior connectivity with direct streaming and the myControl App. Users enjoy the longest wearing time in its class while streaming.
Siemens Motion 13 – if you want comfort, listening ease and convenience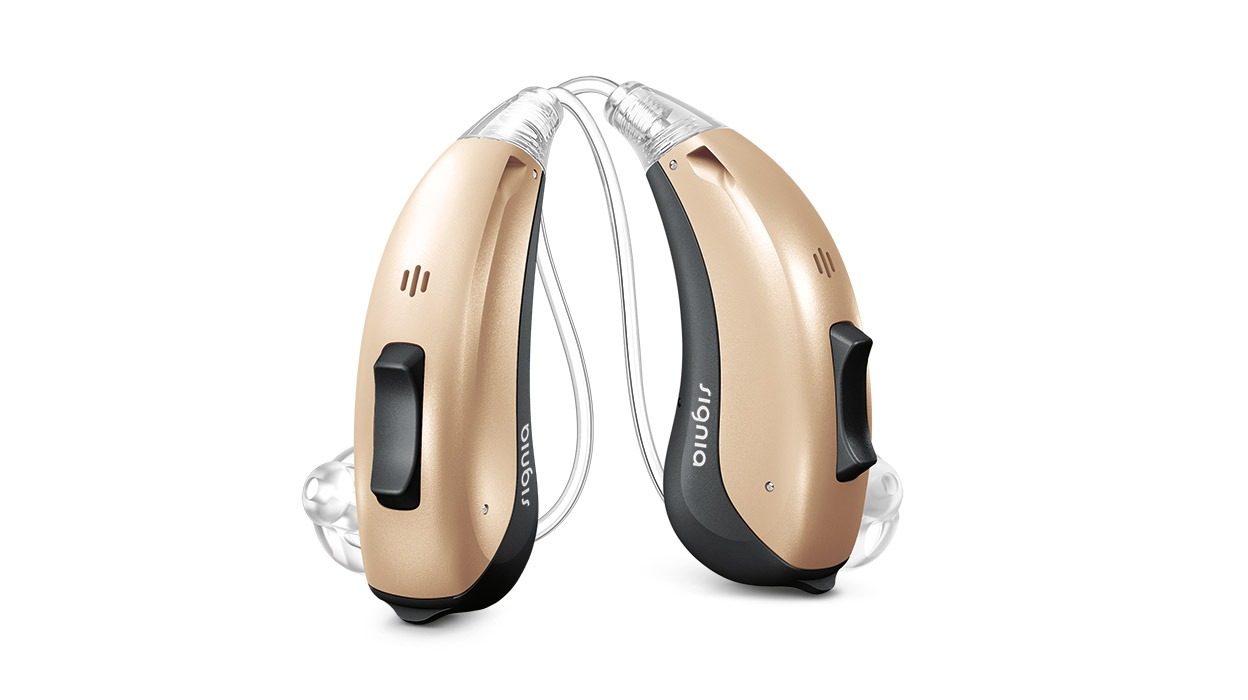 As a BTE Model (Behind The Ear), the small Motion 13 sits snuggly and discreetly behind your ear. Its ergonomic shape makes it extra comfortable to wear.
Motion 13 and its powerful cousin Motion 13P give you back the natural sound of life by tackling mild and moderate as well as severe to profound hearing loss.
Siemens Pure Carat – an ultra-discreet performance
With Pure Carat, discretion isn't just about appearance but also performance. It has the flexibility of four different power levels making it suitable for a variety of hearing losses and gives people with severe hearing loss a discreet hearing solution. Available in an array of natural hair and skin tones, Pure Carat is also compatible with standard and rechargeable batteries for hassle free hearing.

Starkey's Muse iQ
The Muse iQ has technology that provides consistent wireless performance while streaming cell phones, TV, music and other media with SurfLink® Mobile 2, SurfLink Mini Mobile and other SurfLink accessories. Muse iQ delivers Starkey's best-in-class feedback cancellation system providing feedback-free, comfortable listening all-day long. Muse iQ also has advanced Multiflex Tinnitus Technology integrated into the hearing aids to bring relief to those who suffer from ringing in the ears. Muse iQ offers a rechargeable option that delivers continuous, stable power to ensure your hearing aids are always ready for use.*
*Rechargeable hearing solutions are available with rechargeable RIC.
Starkey's Advanced Surflink Remote Control
A solution for patients who prefer a remote control to adjust their hearing aids. In addition to controlling memory and volume adjustments, these handy remotes allow patients to adjust their hearing instruments or go in and out of streaming mode if they desire.
Starkey's Surflink Remote Microphone
The all-new SurfLink Remote Microphone 2 is designed to stream audio directly to your Muse iQ, Muse, wireless SoundLens Synergy and Z Series hearing aids. This discreet, lightweight microphone can be worn by a conversation partner to aid patients in one-on-one conversations or settings with multiple speakers. Patients are able to switch between different modes to optimize their listening experience in difficult environments.
Siemens Streamline TV
The Streamline TV transmitter feeds sound directly from your TV to your compatible Bluetooth Siemens Nx hearing aids. Wearers have the ability to adjust the TV volume individually via the myControl App. This device allows the wearer to watch TV without disturbing anyone around them.
Sennheiser's RS 195 listening device
With the wireless RS 195, make sure you don't miss a detail when watching TV and listening to music. The exceptional sound can be fully personalised to your hearing: simply choose the most adapted setting from the 7 profiles available to optimise your sound experience. The left/right balance control allows you to adjust the volume in each ear.
The RS 195 also gives you a choice of listening modes. The "Speech Mode" reduces background noise and enhances speech intelligibility, while the "Music Mode" reproduces music with an increased dynamic range to perfectly preserve the sound image.